Find Local Driveway, Patio, Paving Pros. Get Up to 4 Quotes Now. It's Quick, Free, and Easy!
Your Driveway makes a first impression to visitors, guests and your community.
Selecting an impressive color & design to compliment your home should take serious consideration. Properly installed driveways will last decades. The choice you make
& material you select may be the last for your home. The material you choose should Compliment your homes style and décor. Over do it and you will make your home look out of place within the surrounding environment
Artistry & Craftsmanship are key to mapping a visual impression for your welcome mat. Your Driveway will add curb appeal if the materials are installed & maintained properly. Impressive finishes in a wide variety of colors add character & beauty far beyond standard driveway installations.

Real driveway art where the look and designs make strong visual statements,

are the envy of every home owner!
Plain Concrete and Asphalt lead the way in paving the past. These materials will still be used however, with more vibrate color & brilliant design options. Unlimited possibilities are in the future for your driveway and they begin by making a decision on which driveway material is right for you.

Your driveway is one of the first features visitors notice about your home. By making it eye-catching and instilling it with character, you can present a warm, inviting feeling to welcome your visitors

, with a multitude of patterns & designer options


Cobblestone
Solid Granite cut into uniform sizes. Limited natural color choice's Pink, Brown & Grey
Limited shapes, square, round or rectangles.


Interlocking Paver's ( Block Pavers )
Solid compressed concrete Man-Made Blocks (controlled curing environment)
Unlimited artificial color choices Unlimited shape's & sizes, multitude of design options
Pervious Pavers

Pavers with stone voids which allow water to permeate In the small but growing residential market, other permeable pavers include Oldcastle Architectural's Belgard Subterra stone. Each Subterra unit has fissures that allow water to pass through.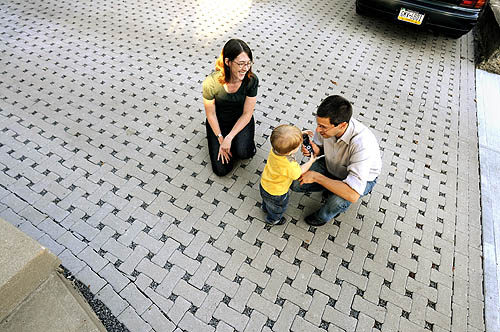 Bricks

Man-Made rectangles made of clay or concrete, non-compressed (cured by heat)
Generally porous and not as strong as Paver's (should be set in Mortar)
Resources limit colors, shapes limited to rectangles

Stamped & Colored Concrete


The durability of concrete, a more distinguished look




Unlimited design patterns replicating any type of driveway imaginable


Unlimited colors a multitude of options


Concrete


Unlimited color additives can be applied to make it more appealing.
Concrete also can have a multitude of finishes and dressed with stone (aggregates)
Concrete Installations need saw-cuts or expansion joints to control cracking



Pervious Concrete


Pervious concrete resembles a gray Rice Crispy treat, It is a relatively new concept.

The concrete is made mostly of pea gravel, water and cement -- minus the sand used in conventional concrete. The lack of sand creates void spaces thus making it porous.

When rain falls on a Pervious driveway, it will permeate straight through.

Stamped & Colored Asphalt

(StreetPrint)
Asphalt stamped to look like brick or stone, many designs available
Many color choices; the color will need to be reapplied as it fades every 2-6 years
StreetPrint authorized dealers may be limited in all areas ( watch out for imitations)

Asphalt

It is easy to keep clean because it is black
New Asphalt is resistant to cracking because it is made of oil, which gives it elasticity.
The downside is the heat that is draws on a hot summer day ( because of it's dark color ).



Macadam or Tar & Chip


Hot liquid asphalt is sprayed over a solid gravel base and colored stone is applied.
Called Tar & Chip when the liquid is applied to existing asphalt or concrete driveway.
Many stone colors and stone sizes from 3/8" – 1 ½"



Stone


Rocks can be purchased in a variety of sizes and colors

(generally 3/8" – 1 ½")
They should be applied on a good solid gravel base and never exceed 2"- 4" in depth.
May need a boarder to retain the loose stones from the lawn or landscape


Gravel

(Every driveway must have a good solid gravel base 4"- 8" thick)

Processed gravels are man-made to perform well under your Driveway preference.

It can hold well as a stand-alone product if it has little or no clay such as R.A.P.

R.A.P (recycled asphalt product) makes a great driveway, it is made of crushed concrete, asphalt, brick and stone from ½" –1 ½" diameter and permeates water.

Gravels are rated by compact ability and processed gravels outperform Riverbank or other natural gravels that may not meet today's high standards for driveway foundations

Grasscrete

The surface area of Grasscrete is 47% concrete and 53% holes to be filled with grass. Grass usually covers much of the concrete and subject to maintenance. Holes may be filled and covered with crushed stone, seashells, etc. to provide drainage in cases where grass is not desired. Grasscrete can be poured or pre-cast blocks installed making a parking area strong enough for trucks yet extremely permeable. Often not used as a driveway material because of constant maintenance
=====================================================================